Gluecom palletising solution to reduce plastic film
Sustainability means acting responsibly towards the environment. Gluecom focuses on green adhesive application solutions to enable efficient use, reduce waste and to help preserve natural resources. With Gluecom's solution for pallet stabilization, palletising or anti-slip glue, a hot melt adhesive is applied directly onto the packaging units ensuring a stable pallet. With this method the need to wrap a pallet with plastic film and intermediate layer pads is reduced significantly. Hence, resources can be saved, and costs reduced.
The traditional method of pallet stabilisation requires layer pads and many layers of foil for stabilization and dust protection. Pallet wrapping is a very large contributor of industrial waste flows and costs a lot money to the recipient to be taken away and landfilled. Next to the environmental advantages of avoiding use of plastic foil, this also generates important cost savings for you as producer and for your customers. Combining existing processes and methods in adhesive dispensing technology make it possible to drastically reduce or even eliminate the need for layer pads and plastic wrap on each pallet. With our palletization solution lines or swirls of hotmelt adhesive are applied directly to the packaging.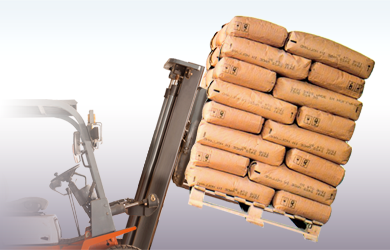 Aim
:
To Reduce Plastic wrapping on pallets with a pallet stabilisation system, the layer pads and the plastic wrap can be reduced if not removed. Where the wrap might still be needed would be to protect the pallet from dust – this however would be a much lower gauge film and would achieve your goals of reducing the plastic used in your supply chain.
Find your adhesives below, or
contact
us for more information.